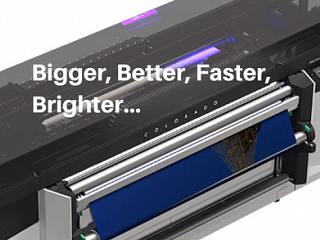 Bigger, Better, Faster, Brighter...
Canon's new 64" Large Format Printer, the Océ Colorado is here, and guess what? We've got one on it's way!

This revolutionary bit of kit will enable us to offer exceptional quality large scale print, at favourable prices within tighter timescales!
WHAT WILL IT PRINT?
• Backlit Film
• Banners
• Canvases
• Floor Graphics
• Posters
• Roller Banners
• Vehicle Decals
• Window Graphics
WHAT'S SO GOOD ABOUT IT?
Outstanding Quality - UVgel® inks allow for precision printing
Print Vibrancy – The depth of ink creates bold, vibrant colours
Speed – Fast printing speeds and ultra fast drying times
Full Choice of Materials – It can print on thin heat sensitive and thick coarse materials
SO WHEN IS IT ARRIVING?
This new printer will be installed in August, and we will be one of the first printers in the UK to have one!