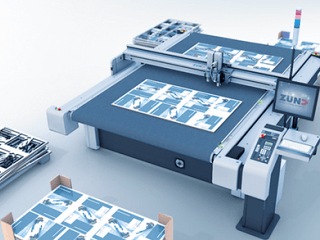 We are so excited to be getting a NEW Zund G3 L-2500
And Here's Why:
- It will enable us to provide you with faster turnaround times for your jobs that require cutting
(Labels, POS, Window Stickers, Signage, Floor Graphics, Graphic Overlays etc)
- It gives a superior quality cut even on complex cut-outs, so you don't need to compromise on your design
- You can add creases to materials such as polypropylene and boards
- It can produce a wide range of boxes and you can use our ready-made box templates if you don't want the hassle of cardboard engineering yourself
- It will V-cut thick materials such as foamex to enable it to be folded
- It's perfect for both high and low print runs, so you can exactly what you need
About the Zund G3 L-2500
The Zund G3 prides itself on offering uncompromised performance & precision. The G3 is an extremely adaptable high speed cutting table and with a reduced power consumption it's even better for the environment.

• Designed for 24/7 operation
• Cuts rolls & sheets up to 1800mm wide
• One system for cutting, creasing & routing
• Cutting, routing & creasing occur relative to the position and orientation of graphics
• ICC camera automatic edge recognition
• V-cutting at both 22.5˚ and 45˚angles
• Perfect for routing softer metal alloys
• Cuts & routs materials up to 50mm thick, even in 3D
• Remove parts while cutting continues
When is it Arriving?
The Zund G3 is due to be delivered on Monday 23rd July and everyone here at Ashfield Printing in Derby is eagerly anticipating its arrival. So if you've got any forthcoming printing jobs which require cutting please give us a call to discuss how our new G3 can help.