You are here:
Info >
Personalisation
Personalisation
Tailor each printed item

Customised Content
---
The following elements within you print can be personalised:
• Name
• Addresses
• Contact Details
• Account Numbers
• Colour Schemes
• Images
• Promotional Codes
• Barcodes / QR codes

Advantages
---
Personalised printing is ideal for situations where you need to include different content to each individual print. When used for marketing purposes this type of print has the following benefits:
• Attracts the receivers attention
• Makes your literature more memorable
• Creates more customer engagement
• Increases response rates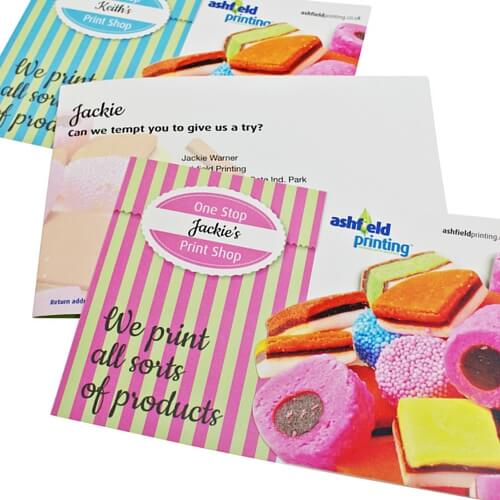 Usage
---
This printing technique can be used on products such as:
• Calendars
• Car Stickers (Permits)
• Brochures
• Direct Mailers
• Invitations
• Flyers
• Labels (Asset)
• Tickets
More Info

Personalsation allows specific elements on the print to be changed, enabling you to customise the content of the print you produce. This process is often used to tailor each printed item to match the likes and tastes of each customer but it is also very useful for allowing companies to tailor their contact details to specific branches or individual personnel.
Your artwork will need to be set up to enable personalisation but this is something our studio team can do for you. If your variable data is text related then this can be sent though as an Excel document.

Get in touch and we can talk you through this process and discuss how personalised print could work for you.
Share On