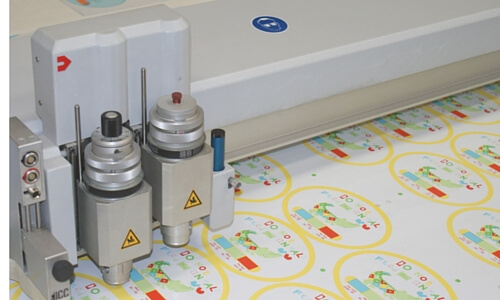 Plant List
Ashfield Printing Ltd, Derby
Our purpose built Derby Print Facility, completed in
October 2000, is the perfect base for suppling
print to UK businesses.

Designed specifically for Ashfield Printing our Derby site incorporates the most up-to-date print works design as well as being built to the highest environmental standards.
The work flow has been designed so that enquiries and orders progress efficiently through the Derby site, from estimating and orders, through job control, design and pre-press stages through to printing, finishing, packing and finally despatch.
Our highly experienced team of printers control all stages of the printing process through our Management Information System. This system has real time reporting so that at the click of a button the progress of any job, on any press can be tracked. It is this Quality Control system that ensures all the work we despatch is of exceptional quality.
The tight integration of all elements of the production, our investment in the very latest technology and our continuous investment in people allow us to achieve exceptional reliability and quality at competitive prices.
About Our Kit
MACHINERY SPECIFICATIONS
Within our 8,500 square feet Derby facility we have the following:
Pre-Press
• Apple Mac G5's with all major design programmes
• ECRM Image Setter with Harlequin RIP
• Glunz Jensen Processor Unit
• Epson Colour Calibrated Proofer
• Natgraph wash out booth, solvent re-circulation system, exposure unit & drying cabinet
• Sericol Pantone Ink Mixing System

Presses
• Presstek 34Di-X Waterless Litho Press
• Océ Arizona 550GT Flatbed/roll digital printer – up to 8ft x 4ft
• Mimaki JV33-130 Solvent Digital Roll Printer
• Canon Imagepress C10000VP
• Océ ColourWave 650PP – Poster Printer
• Svecia Printmaster with UV/combi dryer – up to 889 x 1245mm
• FAS Minimec with jet air dryer

Colour Management
• GMG Colorserve
• GMG Proofing
• GMG Ink Optimiser

Finishing
• 1 x LS 6090 PRO Laser engraving and cutting machine
• 2 x EBA fully programmable guillotines
• 1 x Mimaki CG-130 FX11 Vinyl Cutter
• 1 x Zund L2500CV Flat cutting table with optical registration
• 1 x Zund L1200CV Flat cutting table with optical registration
• 1 x Morgana Auto creaser 33
• 1 x Morgana Major Folder
• 1 x Morgana FSN Numberer
• 1 x Plockmatic 310+ Collator
• 1 x Roland EGX-350 Engraving Machine
• 1 x Excalibur, wall mounted cutting table
• 1 x Metal photo exposure and processor unit
• 1 x Wirobinder 1 x Laminator Atlantic 1600
• 1 x Laminator Matrix 370
• 1 x Uchida Jogger AJ-700
• Resin Doming facilities
• Shrink & Poly wrapping services
• Dynamic Booklet Maker Duplo System 35000
• Multi-Finisher Duplo D645i

We can also offer the following finishing services
• Vacuum forming
• Cutting forme manufacture
• Die cutting
• Heat bending
• Hand collating & assembly
• Machine & hand gluing
• Encapsulation
• Audio unit assembly

Dispatch
• Full width loading bay with fork lift truck
• Ford Connect van for local deliveries
• Interlink next day courier service

All Machines Under Service Contract
Coming Soon...
We are really excited to be getting our new Zund G3 L-2500, take a look at the video below to find out what all the excitement is about.