You are here:
Info >
Laminates
PRINT LAMINATES
Full Range

We offer a wide selection of different laminates which can be added to print to add additional protection, to improve the visual appeal or to provide a tactile finish.
Gloss
A clear film applied to the print to give scratch-proof, resilient protection. Creating a colourful, vibrant, shiny finish.

Matt
A smooth highly textured protective film which doesn't glare or reflect light (often combined with a Spot UV Varnish)

Lustre
Similar to a matt laminate this laminate has a low glare finish without loss of contrast.

Soft Touch
A tactile laminate that gives the print a velvety smooth feel.

Silver / Metallic
A selection of specialist laminates that can create various high impact effects including, gloss silver, metallic/holographic and brushed metal.

Dry Wipe
A clear film which is added to the print to provide a dry wipe finish.

Anti Graffiti
A thicker film which is resistant to most common cleaning solvents that is added to the print to help to protect against graffiti damage.

Anti Microbial
A thin clear film which contains agents designed to protection the print from infections such as: E.Coli, MRSA & Providencia Stuartii

Mark Resist
A durable, hard wearing laminate that is added to the print to provide a mark resistant finish.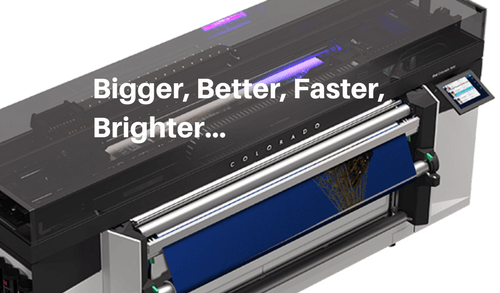 Ashfield Printing Ltd eagerly awaits the delivery of Canon's revolutionary Océ Colorado printer at their Derby site. The printer will be installed in August, and Ashfield will be one of the first printers in the UK to have one!