You are here:
Info >
Binding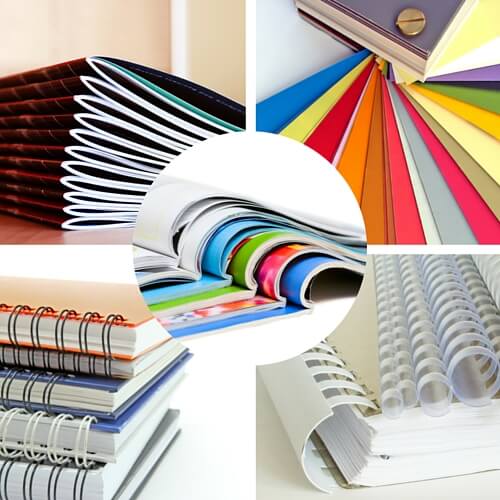 Binding
5 Different Options

Choose from 5 binding methods depending on how you want your finished literature to look and perform.
We offer binding solutions for:
• Brochures
• Booklets
• Books
• Cataloges
• Calendars
• Magazines
• POS Flip Books
• Reports
• Swatches
---

Wire (Wiro) Binding
Uses a metal wire spine to hold the pages together. It enables the pages to be opened completely flat and allows for 360 degree rotation of bound pages.
Ideal for: Calendars, Note Pads & POS Flip Books

Comb Binding
This is very similar to wire binding (pages can be opened completely flat with a 360 degree rotation) but instead of the metal spine a thicker plastic spine is used.
Ideal for: Reports & Presentations

Saddle Stitch Binding
This involves staples being inserted along the spine, holding the folded pages together. This is a very popular binding method but it is dependent on the paper thickness combined with the total number of pages.
Ideal for: Brochures & Booklets

Perfect Binding
This is where the pages are bound together and then attached to the spine using a flexible adhesive. This is the binding used on paperback books. This method is best suited to literature with a large number of pages.
Ideal for: Catalogues, Magazines & Brochures

Binding Screws
This method provides the literature with an prestigious upmarket finish. One binding screw in the top left corner will create a booklet which fans out (like a swatch) whilst multiple binding screws can be use to create a booklet with pages that open out, in this case all pages must be pre-creased. This is the only binding method which allows individual pages to be removed or changed.
Ideal for: High End Brochures, Swaches, Samples
For more information about booklet binding or to find out the most suitable method for your particular job contact our team of print experts on 01332 662026 info@ashfieldprinting.co.uk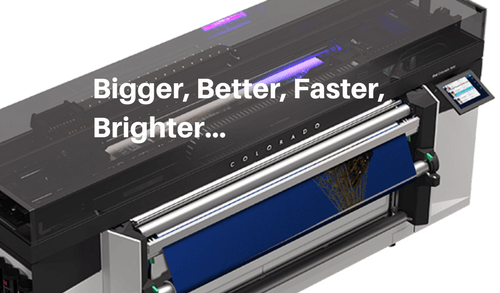 Ashfield Printing Ltd eagerly awaits the delivery of Canon's revolutionary Océ Colorado printer at their Derby site. The printer will be installed in August, and Ashfield will be one of the first printers in the UK to have one!