Promotional Labels
Promotional stickers are great for advertising your product within the retail outlet.
Full Range
Top Quality POS Stickers
Get a Quote
Get a Promotional Label Sample
---

Printed Promotional Labels

Ideal for use in a retail environment these promotional labels are available in a range of different materials and adhesives. We offer a full range of POS labels so if you need them to be easy peel, waterproof or tear proof we can find the right label for you.
• Full colour, high definition print
• Can be cut into any shape
• Choose from a removeable or permenent adhesive
• Avaliable in different materials dependent on the usage

Before quoting for any promotional labels we generally ask our customers to tell us the context in which the label will be used so that we can make sure we select the best materials, relevant finishes and the most suitable adhesives for that individual job.

You may also want to see Fluorescent Printed Labels

LABLE USAGE CHECKLIST
To select a promotional label meets your exact need first you need to answer these simple questions.
1) Where will the label be used?
2) Does it need to fit in a specific space?
3) What type of surface is it fixed to?
4) What is it's expected lifecycle?
5) What is the environment like?

Need Some Advice?
talk to us about promotional labels
GET A SAMPLE LABEL
Something went wrong.
Thank you, your request has been received.
Label Look Up Buyers Guide
get your FREE copy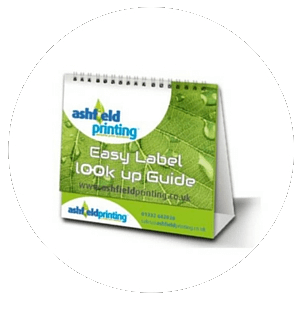 Get Guide