Cut Out Labels & Stickers
Our labels can be cut into specific shapes to make them eyecatching or provide an advanced fit
Great Visual Appeal
Any Shape, Any Size, Any Quantity
Get a Quote
Get a Cut to Shape Label Sample
---
Specification
Most labels can be cut to shape no matter what other special requirements are required. So whether your labels need to be waterproof, heat resistant, domed or long lasting they can still be die cut to a specific shape.
• Most types of labels can be cut to shape
• Cut to shape sticker / labels often look more interesting and attract more attention
• Available on various label materials with a choice of adhesives
Read more about...
Common shapes include circles, ovals and rectangles with radius corners, but the shape can be as complex as you desire. We have a brand label shaped as an ink splash and we have produced children's stickers shaped as cartoon characters, so the possibilities really are endless.
Before quoting for any die cut labels we generally ask our customers to tell us the context in which the label will be used so that we can make sure we select the best materials, relevant finishes and the most suitable adhesives for that individual job.
Need Some Advice?
Get In Touch
Label Look Up Buyers Guide
Get Your FREE Copy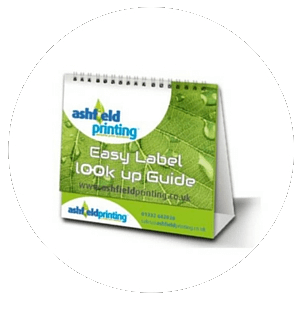 Get Guide
Not Sure What Label You Need?
Let Our Label Selector Decide
Go To Selector