Label Adhesives
Full Choice

We match the label adhesive to the label application!
---
1) Removable Adhesive
We have various removable adhesives with different properties, talk to us to find out which is the most suitable for you.
2) Permanent Adhesive
Permanent adhesives start out soft and sticky and harden over time to provide a permanent fix.
3) Ultra Permanent Adhesive
The highest adhesive strength designed for use in harsh environments.
4) Ultra Destruct
Designed not to be removed once applied. These labels cannot be removed in one piece as they are designed to break-up when tampered with.
Finding the Best Adhesive
---
We can source a wide range of different adhesives with different properties. Our team of print experts always recommend adhesives based on individual job requirements, in order to select the most suitable label adhesive we will need to know:
• The estimated label life time
• If the label needs to be repositioned or removed
• What surface the label will be fixed to
• Any environmental conditions (temperature, humidly, outdoors)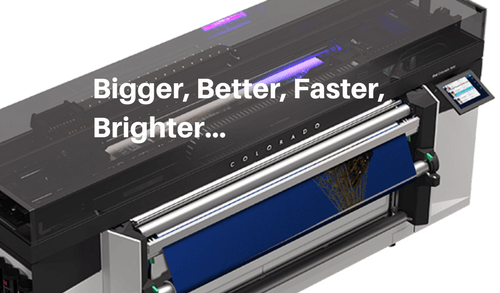 Ashfield Printing Ltd eagerly awaits the delivery of Canon's revolutionary Océ Colorado printer at their Derby site. The printer will be installed in August, and Ashfield will be one of the first printers in the UK to have one!