You are here:
Products >
Custom Window Stickers
Custom Window Stickers
These professionally printed window stickers are ideal for your shop or business.
High Impact
Made to measure windows stickers
Get a Quote
Get a Sample Window Sticker
---

Get Your Own Printed Window Stickers

High quality window stickers are a great way for you to attract attention.

• Select your own sticker size and shape
• Choose a white or transparent background for your sticker
• Pick from a self adhesive (removable) or self cling adhesive
• Can fit inside or outside the window
• Over laminates can be added for enhanced durability
• Ideal for self application
Self Cling Vs Self Adhesive
Window stickers are applied using either self adhesive or self cling (without adhesive).
Self Adhesive Window Stickers
- Ideal for permanent or semi permanent
- Completely waterproof and can be used indoors or outdoors
- Applied directly to the window these stickers are long lasting and washable, yet they can be removed when necessary.
Self Cling Window Stickers
- Adheres to glass (and other smooth surfaces) using static and not adhesive
- Easy to reposition or remove
- Better suited for short term use
Window Sticker Application
We produce window stickers and decals that can be fitted inside the window to be viewed from outside (these are known as INSIDERS) as well as graphics that are both fixed and viewed outside of the window (these are known as OUTSIDERS).

Inside fit window graphics are the most popular choice because they avoid all external weather conditions. Inside fit window stickers are printed in reverse so that they appear the right way round on the window.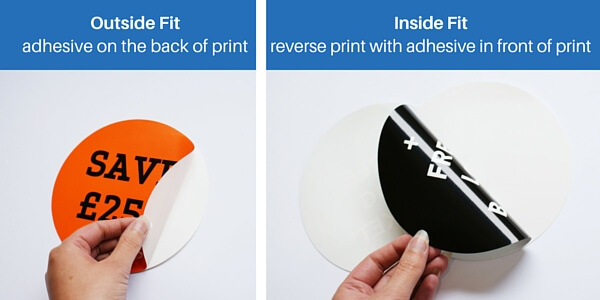 In Need of Inspiration?
Share On
Need Some Advice?
lets talk about custom window stickers
GET A SAMPLE WINDOW STICKER
Something went wrong.
Thank you, your request has been received.
Get a FREE Print Pack
packed full of print samples
Get Pack