You are here:
Products >
Brochures & Booklets
Brochures & Booklets
We make it easy for you to create a stunning brochure that will impress even your toughest clients
Designed to Impress
Choose your own specification
Get a Quote
Contact Us
---

Create Your Own Printed Brochures

A top quality brochure is a great way to showcase your business at both a corporate and product level. Brochures are so effective because they provide your customers with a tangible resource to retain and re-use.
As an experienced brochure printer we can offer you:
• Top quality print, including high end print finishes
• Full choice of binding methods and paper stocks
• You can even have each brochure personalised with your customers information

Booklet Binding Methods
We offer a full choice of binding methods depending on how you want your finished booklet to look and perform.

Wire (Wiro) Binding uses a metal wire spine to hold the pages together. It enables the pages to be opened completely flat and allows for 360 degree rotation of bound pages.
Comb Binding is very similar to wire binding (pages can be opened completely flat with a 360 degree rotation) but instead of the metal spine a thicker plastic spine is used.
Saddle Stitch Binding involves staples being inserted along the spine, holding the folded pages together. This is a very popular binding method but it is dependent on the paper thickness combined with the total number of pages.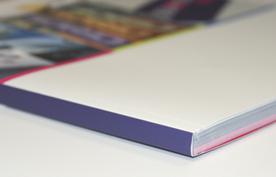 Perfect Binding is where the pages are bound together and then attached to the spine using a flexible adhesive. This is the binding used on paperback books.
Binding Screws provide the booklet with an prestigious upmarket finish. One binding screw in the top left corner will create a booklet which fans out (like a swatch) whilst multiple binding screws can be use to create a booklet with pages that open out, in this case all pages must be pre-creased. This is the only binding method which allows individual pages to be removed or changed.
Booklet Sizes
You can have your brochure in almost any shape and size you desire. Booklets can be produced in either landscape or portrait, popular booklet sizes include:
DL (W 99 x H 210mm) DL booklets are a handy size to fit in a back pocket, they make great product catalogues.
A6 (W105 x H 148mm) A6 booklets are an ideal size for fitting into pockets and handbags
A5 (W148 x H 210mm) A5 booklets are very popular, they are a convenient size and efficient in terms of page content
A4 (W210 x H 297mm) A4 booklets work well at a corporate or brand level, their larger size gives imagery maximum impact and they can hold a lot of information.
Bespoke sizes also available.

How to Give Your Brochure a Premium Feel
If you are looking to create a high end, prestigious brochure which projects a strong brand image you may want to consider the following:
• Using Premium or Textured Paper
• Including a Metallic Foil to the outer cover
• Adding a Spot UV Varnish
• Using Metal Binding Screws
• Adding a Soft Touch Laminate
• Personalizing the content for each customer (image, text, QR code or PUR)
In Need of Inspiration?
Share On
Need Some Advice?
talk to us about brochures
GET A SAMPLE BROCHURE
Something went wrong.
Thank you, your request has been received.
Our Order Process
find out what happens when you place an order with us
Read More