Screen Printing
Produces Durable Labels
The Screen Printing Process
The technique of screen printing is based on that of stencilling. A fine mesh, called a screen is used as a stencil. The print design is created by coating certain areas of this screen with a non-permeable material. A fill blade (a squeegee) is then used to force ink through unblocked areas of the mesh screen and onto the printing surface.
This method of printing only prints one colour at a time, so several screens are required to produce a multicoloured label design.
Screen printed labels can either be surface or sub surface (reverse) printed. Sub surface printing involves reverse printing onto a clear material and then adding the adhesive behind the print, meaning that the print itself is not exposed to the environment.
This printing process produces highly resilient, long lasting labels, which are often used for machine fascias, industrial equipment or general outdoor usage.
Key Screen Printing Facts
• Uses highly durable Inks
• Offers a wide choice of materials (substrates)
• Produces vivid colours
• Ideal for spot colour
• Not suitable for fine detail (images)
• Best suited to medium to high volumes

Screen Printing Kit
Our highly experienced team of screen printers control all stages of the screen printing process to ensure all labels produced are of exceptionally high quality.
Press
• Svecia Printmaster with UV/combi dryer – up to 889 x 1245mm
• FAS Minimec with jet air dryer
Finishing Equipment
• EBA fully programmable guillotines
• Mimaki CG-130 FX11 Vinyl Cutter
• Zund L2500CV Flat cutting table with optical registration
• Zund L1200CV Flat cutting table with optical registration
• Morgana Major Folder
• Excalibur, wall mounted cutting table
• Laminator Atlantic 1600
• Laminator Matrix 370
Our Latest Blog Posts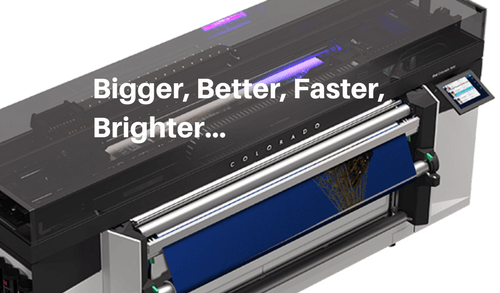 Ashfield Printing Ltd eagerly awaits the delivery of Canon's revolutionary Océ Colorado printer at their Derby site. The printer will be installed in August, and Ashfield will be one of the first printers in the UK to have one!