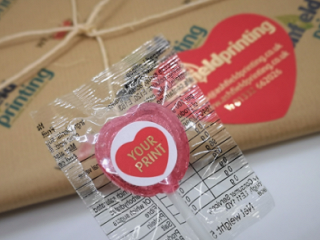 This February we want to inspire you to create print that you (and your customers) will love.

Why? Because we know that if you put the time and effort into creating an impressive, engaging and memorable piece of print you will be impressed by the results that you get!

Our team of print experts are here to help you with ideas and input every step of the way. So don't succumb to the same old boring business print, let's work together, get creative and make your next print job a project to be proud of.

Here are 3 really simple (and affordable) ways to show your print some love:
1) Add glitz and glam with the inclusion of a metallic foil

2) Cut it into a shape, be as creative and unique as you like

3) Opt for a textured paper, kraft or recycled paper which are very popular
We are offering all our customers a FREE Sample Pack, packed full of print ideas. Have you claimed yours yet?